A shelter has shared one dog's amazing transformation just 24 hours after being rescued in St. Louis, Missouri.
"We received a call from a member of our community that said, 'There's a small brownish gray pit mix on my porch,'" Natalie Thomson from Stray Rescue of St. Louis told Newsweek.
"She said she thought it was injured because it wouldn't get up, and she was too afraid to approach it herself because the dog would turn her head real fast."
Volunteers responded to the call out and filmed the moment they carefully approached the dog.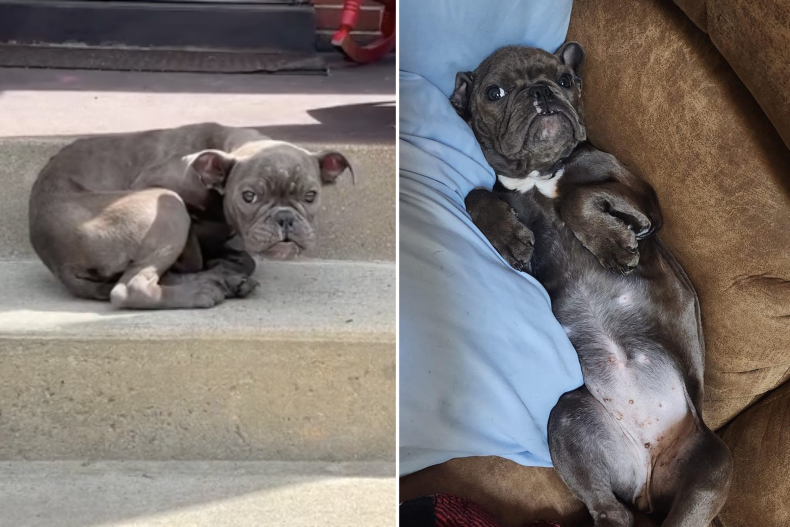 In the video, the dog looks terrified, shaking on the porch. "She was not interested in our Vienna Sausages at all," Thompson said. "We let her stand up for herself and were slowly able to sort of lasso the slip lead around her neck and kept it loose until she was used to it and began to slowly make our way to the rescue jeep."
With no tag, collar or microchip, she was named Babbit by the team. Estimated to be around 2 years old, she seems to be a bulldog or French bulldog mix.
Each year 6.3 million pets are surrendered to U.S. shelters, which is an average of 17,260 a day, according to the American Society for the Prevention of Cruelty to Animals.
Around 920,000 surrendered animals are euthanized every year. Shelters are striving to minimize euthanasia rates by promoting adoption campaigns, spaying and neutering programs, and behavior rehabilitation.
Stray Rescue of St. Louis is a no-kill animal shelter founded in 1998, with more than 60 staff members and over 1,000 volunteers and 400 foster families.
After getting Babbit into a crate with a soft blanket, she soon started to come out of her shell.
"Every time we approached, she seemed to soften. We opened the door and sat on the floor and gave her the time and space to come out on her own," said Thompson. "With a little baby talk, she knew she was safe. She climbed into one of our volunteers' laps and fell asleep, and that moment was so beautiful and sad."